How do 'forged' carbon fibre components compare to cast aluminium, continuous carbon fibre, Markforged 3D printed carbon, and 3D printed 'onyx'?
In this video we look into the mechanical properties of components that have been compression moulded using relatively short strand chopped tow carbon fibre reinforcement; a process that has come to be known as 'forged carbon fibre'.
Having demonstrated in a previous tutorial how the forged carbon fibre process can be used to produce a range of fully moulded structural components, such as a brake lever or engine cover component, we were keen to see exactly how well carbon fibre components made in this way compared to their most likely alternative; cast aluminium, as well as a Markforged 3D print, 'onyx' 3D print and a 'forged' component optimised with some continuous fibre placement.
Watch the video to see how these different materials compare to each other in a range of conventional mechanical tests or read on to find out more.
Definition of Forged Carbon Fibre
What is 'forged carbon fibre'?
Throughout this investigation, and our previous video tutorial on the same subject, we have chosen to use the term 'forged carbon fibre', however we acknowledge that although the term is quite widely used, there is little consensus on its exact meaning and also some debate about the appropriateness of the word 'forged' in a composites context at all.
Whilst there may be other definitions, for the purposes of clarity we are defining 'forged carbon fibre' as the name given to the process of compression moulding a carbon fibre component using randomly oriented short strand carbon fibre reinforcement and a resin matrix. As such, the term could be used both to describe compression moulding chopped tow prepreg, or dry chopped carbon fibre tow with a liquid resin - as we have used for this investigation.
Materials on Test
The focus of this investigation was primarily to produce comparative data, comparing the mechanical properties of forged carbon fibre components to some alternative materials which may be considered for the low volume production of small to medium sized, fully moulded components.
Cast Aluminium
Our 'real world' aluminium component was an aftermarket aluminium brake lever for a trials motorcycle made from an unknown grade of aluminium.
The aluminium test tokens were made from 6082 T6 grade aluminium, which is a typical grade of aluminium used for many structural aluminium components.
Markforged Continuous Fibre 3D Printed Carbon Fibre
Markforged 3D printers are highly specialised 3D printers which are capable of printing components using filament reinforced with continuous fibres, including carbon fibre. This technology represents the pinnacle of 3D printed carbon fibre and is claimed to produce components with mechanical properties comparable to aluminium. Markforged 'continuous filament' 3D prints are printed using two heads, one laying a 'base' and the other laying the continuous fibre. For a 'continuous fibre' carbon fibre print, the base filament is Markforged 'Onyx', a nylon filament which is itself enhanced with the addition of very short strand (milled) carbon fibre.
Our component and test tokens were printed by 3d People on a Markforged printer using the maximum amount of continuous carbon fibre and at 100% fill. The carbon fibre was aligned down the length of the lever and wrapped around the pivot point to yield the best possible performance from this technology.
We do not own a Markforged printer, we did not discuss this project with Markforged and we paid retail price for our sample 3D prints.
3D Printed Onyx
'Onyx' filament from Markforged is a nylon FDM print filament which has been enhanced with very short strand milled carbon fibre. Although Onyx is designed for Markforged 3D printers, similar carbon fibre enhanced thermoplastic filaments are widely available and can be used in many conventional FDM printers. Due to the very short length (typically 30µm) of the carbon fibres used in these 'carbon enhanced' filaments, the improvement to the mechanical properties of the resulting print is very limited.
Our 3D printed Onyx brake lever and test tokens were printed on a Markforged 3D printer without any continuous fibre placement. They were printed on 100% fill. No optimisation of fibre orientation is possible with this print technology. These prints represent the best mechanical performance that is likely to be possible from a conventional FDM 3D printer.
Forged Carbon Fibre
The first set of forged carbon fibre Produced by compression moulding randomly oriented dry chopped-tow carbon fibre with a low viscosity liquid epoxy resin in an FDM 3D printed compression mould. Full information on the process used to produce the forged carbon fibre component can be found in our How to Compression Mould Forged Carbon Fibre video tutorial and article.
'Optimised' Forged Carbon Fibre
The second set of forged carbon fibre samples for test were produced using the exact same process used to product the standard forged carbon fibre components but with cut lengths of continuous carbon fibre used in place of some of the chopped-tow reinforcement. Continuous lengths of carbon fibre tow were laid lengthways down the lever and also wrapped around the pivot point to add additional strength in the high load areas.
Using a combination of randomly oriented chopped tow, together with specifically oriented long strand carbon fibre tow creates a hybrid reinforcement solution which leverages the advantages of both reinforcement formats; the chopped tow providing a 'mobile' reinforcement which can move and flow into all areas of the mould under pressure, with the unidirectional carbon fibre providing maximum strength and stiffness exactly where it is needed.
Material Densities
When comparing the mechanical properties of the various materials, it is important to remember that the densities of the various materials on test vary considerably. 'Specific' mechanical properties can be calculated by dividing their standard mechanical properties by their density.
| Material | Density g/cm³ |
| --- | --- |
| Aluminium | 2.73 |
| Forged Carbon Fibre | 1.5 |
| Optimised Forged Carbon Fibre | 1.58 |
| Markforged Continuous Carbon Fibre | 1.15 |
| Onyx | 1.04 |
Results
The aim of this investigation was not to provide definitive, robust mechanical data for compression moulded forged carbon fibre but rather to provide fair and accurate comparative data comparing forged carbon fibre to cast aluminium and the best 3D printed carbon fibre technology in a real-world application. As such, no formal ISO or ASTM standards were applied, and some units have been substituted where we believe alternatives would be more meaningful to a general audience.
Lever Pull Test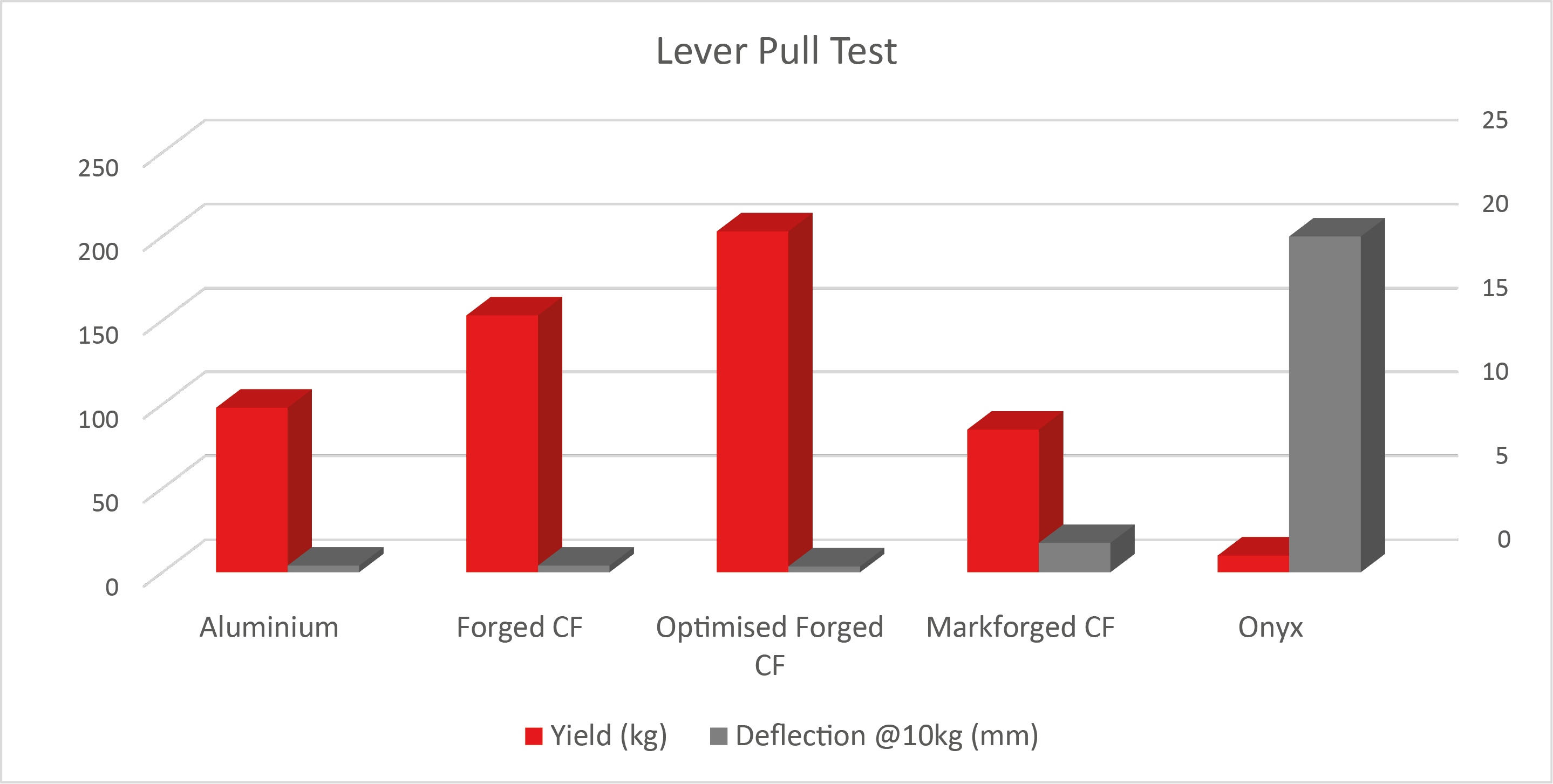 | Material | Component Weight (g) | Yield (kg) | Deflection @10kg (mm) |
| --- | --- | --- | --- |
| Aluminium | 46.7 | 98 | 0.4 |
| Forged Carbon Fibre | 24.7 | 153 | 0.4 |
| Optimised Forged Carbon Fibre | 25.2 | 203 | 0.35 |
| Markforged Continuous Carbon Fibre | 19.9 | 85 | 1.75 |
| Onyx | 17.9 | 10 | 20 |
Flexural Test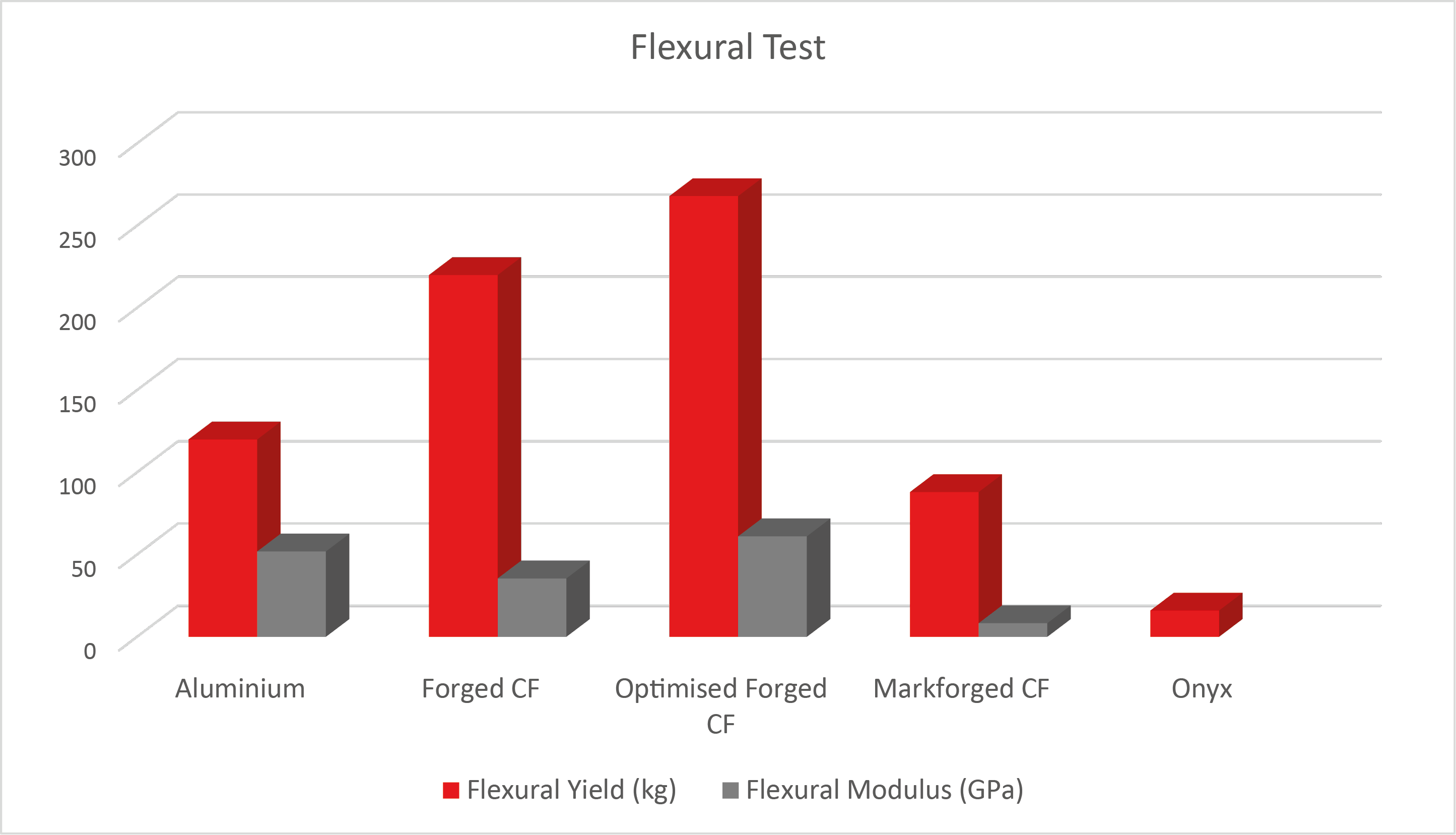 | Material | Flexural Yield (kg) | Flexural Modulus (GPa) |
| --- | --- | --- |
| Aluminium | 120 | 51.9 |
| Forged Carbon Fibre | 220 | 35.5 |
| Optimised Forged Carbon Fibre | 268 | 61.1 |
| Markforged Continuous Carbon Fibre | 88 | 8.3 |
| Onyx | 16 | - |
Tensile Test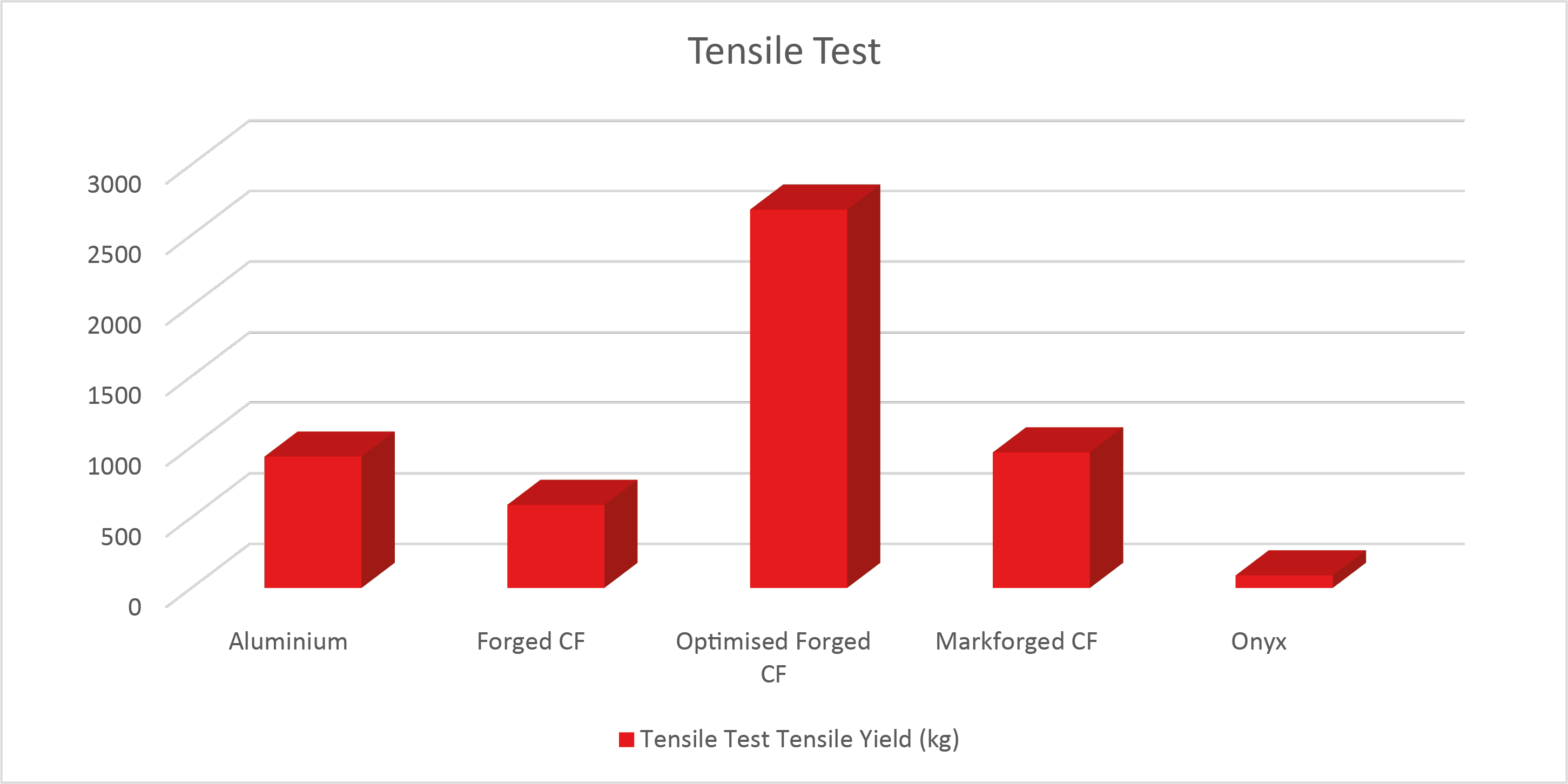 | Material | Tensile Yield (kg) | Tensile Yield (MPa) |
| --- | --- | --- |
| Aluminium | 930 | 304 |
| Forged Carbon Fibre | 588 | 192 |
| Optimised Forged Carbon Fibre | 2680 | 875 |
| Markforged Continuous Carbon Fibre | 960 | 314 |
| Onyx | 89 | 29 |
Conclusion
Compression moulding chopped strand carbon fibre, in the way demonstrated in our forged carbon fibre demonstration, offers some significant advantages over cast/machined metal components as well as alternative composites moulding processes such a prepreg or resin infusion. The main advantages being the very low tooling and equipment costs, negligible waste/consumables, and the ability to reliably produce solid, fully moulded components. The disadvantage to this process however is its reliance on short strand (chopped tow) carbon reinforcement and the inevitable compromises on the mechanical performance resulting from its use.
The results of our investigation show that whilst a 'forged carbon fibre' component - reinforced using randomly oriented short strand carbon fibre - is indeed compromised in its mechanical compared to a continuous fibre reinforced component, the process still produces components with mechanical properties as good, or better, than cast aluminium and with the simple inclusion of some continuous fibre, can significantly outperform aluminium whilst still providing all the benefits of this cost-effective and fast-turnaround manufacturing process.